CATS ON TUESDAY

When I met my "The News" neighbor on the street, suddenly Arthur showed up from somewhere because he loves to listen when people are chatting in the street.



So he sat besides us and did nothing while my neighbor informed me about the latest news. Nobody was born or died here in the neighborhood, but the widow three houses farer moved together with the widow 6 houses farer and that of course was very interesting.



With a glance at Arthur she said, "I hope the new neighbors like cats". Her phone rang and she ran inside the house. I waited, Arthur had disappeared. My newspaper came back complaining that people hang up too soon. The phone rang again, she started for a sprint, the ringing stopped. Then suddenly somebody whistled loud and made smacking noises. I was a little perplex. Suddenly she exclaimed "the perrot of Suzy" ! and hurried inside the house. Suzy was her granddaughter.



A perrot ! I wondered, and followed her.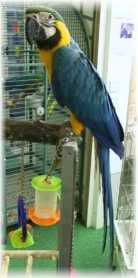 In the middle of the living room a big cage was sitting on the table and a beautiful big parrot was inside, balancing himself from one side to the other. In front of the cage sat Arthur and looked surprised at him.



He was used to the phone ringing, but that a bird had whistled at him, he found really strange. He sniffled at the cage. The perrot blew himself up, doubled almost his volume and screemed "go away, go away" and then smacking again he said " pussy, pussy, pussy" smack, smack.



Arthur looked confused. People had already called him pussy but a bird ?? He couldn't understand the world any more. The parrot came closer to Arthur's head and said "God save the King" (we have a King in Belgium) Arthur moved a little back, as to his knowledge he was a cat and not a king. Then he turned carefully around the cage.



The parrot followed also turning and told him "close the door" Arthur didn't want to close a door. Then the parrot said "God dammit, god dammit" and a few other ugly words which I cannot write down here.



Arthur was impressed. He put a paw against the grid, the parrot bent down and almost hit the paw, but Arthur was quicker and withdraw. Now the parrot got really in shape. He dansed and shaked, shouted, whistled and told me to go to hell. I stand there with my "News" besides me and laughed and laughed that my belly hurt. The "News" explained, that she will take care of the parrot for 2 weeks while her granddaughter was on holidays.



Meanwhile Arthur's ears were turned back because of the noise, then he jumped from the table, took a flight through the door and disappeared. Too much is too much !



When I left he asked me "Go to bed ?" barked, and then made noises like a kiss. Then I heard a lot of words or sentences he had registred and suggested me to shut up. That's what I did and left too.




Arthur will probably try to go back there again !



PS. Somebody asked me why I mostly talk about Arthur. The reason is that he is the only one who makes funny things. Lisa not anymore, Kim never did, and Pookie only sometimes while Arthur is a source of inspiration !