CATS ON TUESDAY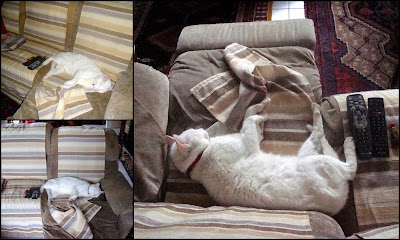 Poor Arthur was sick. He didn't eat very well and lost weight. Mr. G. took him to the vet. Arthur had a gum inflamation, that's why he couldn't eat. He behaved very badly at the vet, hissing, scratching and yowling, then he escaped from the table and they had to chase him around the room until finally they got him. Our brave vet lady was very surprised that Arthur was so aggressiv, he had always been such a good cat with her. I think it is due to the bad experiences he had when another cat had bitten him in the tail and he almost lost it.
Now he is back to his old self, played with my scarf and pulled out some fringes !
He also goes out again, especially when Mr. G. comes home, he follows him like a little dog but before he has to check what is going on on the street of course.
I had changed the decoration of my season basket, the Christmas stuff is gone and Miss Rosie had to check if it looked nice. Arthur, always curious, had to put his nose in there too.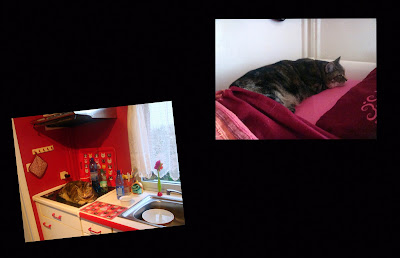 Pookie has a new napping place, which doesn't make me happy, it's on the stove ! I am worried that she will jump on it when it's still hot. But apparently she only sleeps there when there are no pots. Otherwise she prefers Mr. G's bed.
Kim has a new job. She is our doormat ! Since a few weeks she sleeps at the entrance, when she is not outside. I really don't know why, because it is not an especially comfortable place.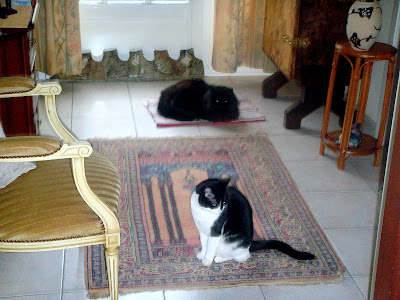 Rosie too wonders why Kim is sitting there.
For the moment Rosie has bitten off all tails from her toy mousies and drops them in the water bowl ! The mouse she puts besides the bowl ! I think I should find her a job in a circus.